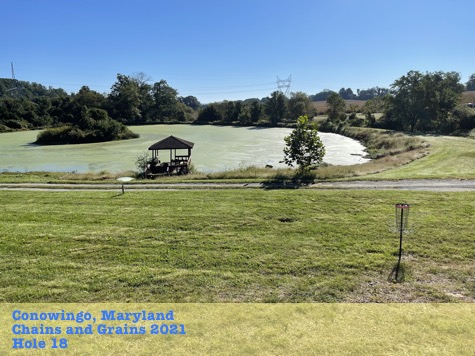 I played in the Chains and Grains 2021 disc golf tournament held this year at the Conowingo Disc Golf course located in northeastern Maryland.
Par for the course was 58. I shot a 68, which is pretty good for me.
It was rough though. The course is really, really new. There were no tee pads. There were no baskets. There were just temporary baskets, most of which weren't actually legit baskets.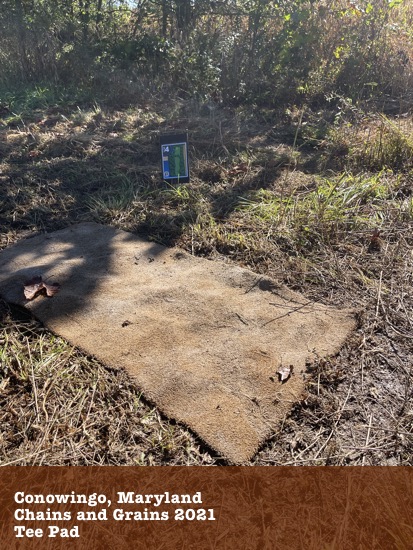 Navigating the course was extremely difficult for an old player like myself. For instance, there was one hole where I needed to cross the creek, but the rocks setup to help navigate the creek looked too tricky for me, so I just walked through the river. Having wet socks is better than having a sprained ankle.
But I expected all of this going into the tournament. It's a new course that was just built in the last few months. There are major drainage issues. The rough is rough - full of brambles that will straight up attack you when you go near them.
Regardless, the course was fun to play.
The designer did a great job of taking short holes and making them super technical. I remember standing there staring at the basket 200 feet away on my tee shot, only to bogey the hole.
One hole that stood out to me was hole 16. That is a phenomenal hole. It's pretty long and starts in the woods shooting from on top of a hill. The hole ends in an open field. I double-bogeyed 16, but I could see spending some time figuring out that hole.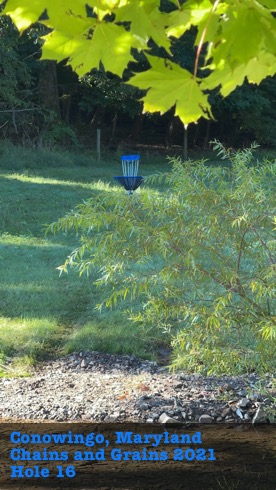 I also really like 18 and 2 because you get to hang out a hyzer over the pond. Hole 1 is the same sort of shot, but I played the wrong disc and caught the edge of the pond. I recovered my disc, but I double-bogeyed the hole. On hole 1, I was concerned about hyzering into the parking lot and hitting someone's car.
I don't recall all of the holes in detail, but there several really fun holes through the woods. There was a bunch of elevation shifts to deal with, and the creek runs through most of the course.
I had a great time, and the beer at the end was perfect. We even got live music.
One of the stated goals of having the tournament there this year is to be able to make the course permanent with real baskets, and hopefully some tee pads.
It's a long drive from Gaithersburg, but I will definitely go back. I want to see how this course develops over the next few years. It's got great potential.