Davie Disc Golf Course in Mocksville, North Carolina is the first disc golf course I've played in North Carolina.
It's a new course, and I loved it - twice.
I don't live in North Carolina, but I have family here. I live in Maryland.
The folks who built and designed this course have done a phenomenal job. The course designer is Drew Smith. I've never personally met Mr. Smith, but according to his PDGA profile, he's been playing disc golf competitively for more than 20 years.
Please note that for context, I'm not "critiquing" Mr. Smith's course. I'm a neophyte to disc golf. I am writing about my experience with the course. If I designed a course, everyone would probably hate it.
Pros
Pros are variety, signage, baskets and bonus holes.
Variety
The Davie Disc Golf Course is a good mix of really challenging holes and some really fun ones too.
Hole 1 is a long bomber at 690 feet. It's not particularly challenging, but I can see getting goofy on one of my three shots it takes me to get to the green. I kept it on the runway both times I played and parred it.
There are plenty of opportunities to hyzer, anhyzer, side arm, for thumbers and rollers.
I don't recall which hole it was, but I got off in the woods at one point - many points actually. In one instance, I was able to dig myself out with the first thumber I have ever thrown.
The Davie course has lots variation in elevation, doglegs to the right and left, some long holes, some short holes, lots of tunnel shots, trees, and a swamp can get into the mix if you're not careful.
For me, I really enjoyed the long holes. Distance is a thing I struggle with. So it felt good to birdie hole 16. It's over 400 feet, but I got to the green in two and made my putt.
Mach V Baskets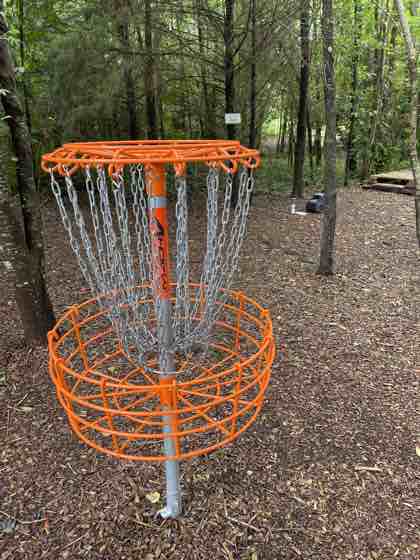 The baskets are essentially brand new. This course has only been open for a few months.
When I first played the course, it was raining, these Mach V's were like butter.
The second time around, it was bright and sunny, and the baskets were more punishing. I also kept throwing my putts too high on that second round.
Honestly, I don't care which brand basket a course has installed, as long as my disc fits inside it.
Signage
I've yet to play a course with this quality of signage.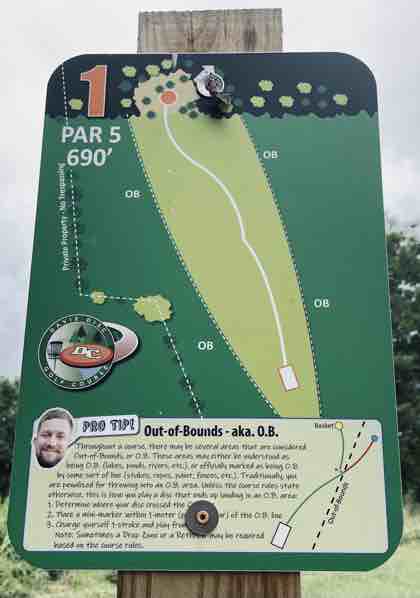 And it's not just the hole information on each sign, there's are pro tips from professional disc golfer Nate Sexton. I didn't actually read any of them, but I appreciate the effort and detail.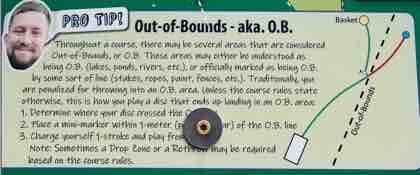 In terms of navigating the course, the only hole that is tricky to get to is 13. After 12, it's a several minute hike to 13. It felt like I was going the wrong way, but I got to 13 eventually. There's a fork in the path on the way to 13, stay to the left for a shorter walk.
Bonus Holes
I don't know if this is common, but this course is not 18 holes - it's actually 20. There's a hole to play to get to hole 1, and a hole to play to get back to the parking lot after playing hole 18.
Hole A, leads to hole 1. It is a fun little 270 footer shooting down at basket from the tee pad. It is prime birdie material. I parred it both times I played Davie.
Hole B follows 18. This hole was fun because it's a long wide open fairway - 560 feet up and over a hill.
I learned something on this hole.
The wind had picked up, and I tried a couple of times to rip my Buzzz up the hill. It kept slamming back into the ground from the wind. The wind was coming almost directly at me. With the nose down on the Buzzz, the wind was just beating it into the ground. What I figured out is that when throwing into the wind, the tip needs to come up a bit higher than I might normally throw a disc. The wind gets under the disc and it flies - it's almost act like a sail on a boat.
Bonus Features
Davie even has Roc Racks. Or you could hang your bag here too, I guess.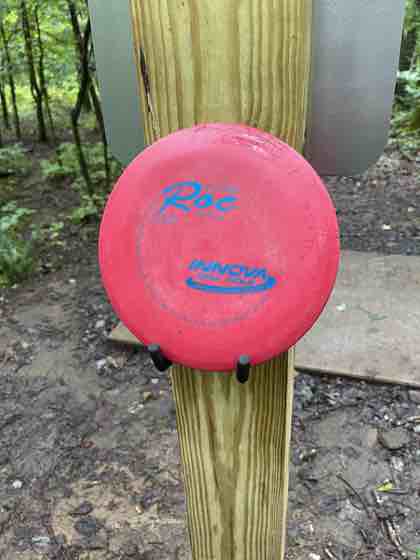 Cows live here.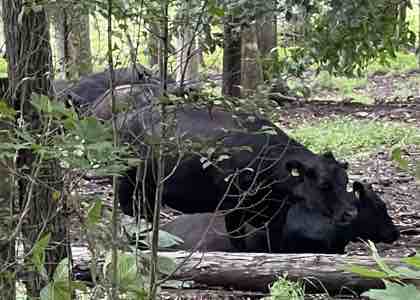 Cons
Davie Disc Golf Course is new.
There are lots of things to trip over - little stumps.
There are several places that have serious water issues that will need to be resolved to prevent erosion.
Many of the tee pads are pretty far off the ground. Being old, that transition from the concrete to dirt could be smoother on several holes.
In a couple of years, this course is going to be amazing. I already love playing it, even if it does kick my ass.
Round 1 Scorecard
This is my scorecard for round 1. I didn't keep score on the second time through Davie.
| Hole | Par | Score | Comment |
| --- | --- | --- | --- |
| 1 | 5 | +1 | Missed upshot. Birdie chance but blew it for a bogey |
| 2 | 3 | 0 | Another birdie chance, but settled for par |
| 3 | 3 | +1 | Big time early release. Scrambled to make bogey. Had a par shot, but didn't convert it |
| 4 | 3 | +1 | Early tree. Scrambled to save par, but ended with a bogey |
| 5 | 3 | 0 | |
| 6 | 3 | 0 | |
| 7 | 3 | +2 | |
| 8 | 3 | +1 | Early tree, scrambled to get this bogey. |
| 9 | 4 | 0 | |
| 10 | 3 | 0 | |
| 11 | 4 | +1 | Started to rain hard. Could barely see. Fortunate to get a bogey |
| 12 | 4 | +1 | |
| 13 | 3 | 0 | |
| 14 | 4 | 0 | |
| 15 | 3 | +1 | |
| 16 | 4 | -1 | |
| 17 | 3 | 0 | |
| 18 | 5 | +2 | I didn't understand this hole. I just kept chucking it forward. I was lucky to get a double bogey. |
| | | +10 | |