I've played Woodsboro a few times, but I don't think I've ever played all 18 holes until today.
I shot the short tees and ended with +8 on 18, which for me is pretty good.
The front nine is quite a bit less challenging than the back nine. Even still, there are a lot of trees. I hit three of them on hole 3 and put up a double bogey.
After the front nine, I was +3. The back nine was certainly more challenging for me. I ended with +5 on the back nine.
As a newb, even getting to the tee pad is more challenging on the back nine.
For instance, to get to hole 10 from nine, I had to walk through a little path, across the hole 18 green. The hole 10 tee pad is just beyond the hole 18 basket.
All throughout the back nine there are several hiking opportunities getting from one green to the next tee. For me, I like the hiking aspect of disc golf, so I enjoyed this aspect of the course.
Here's a shot I took of hole 12.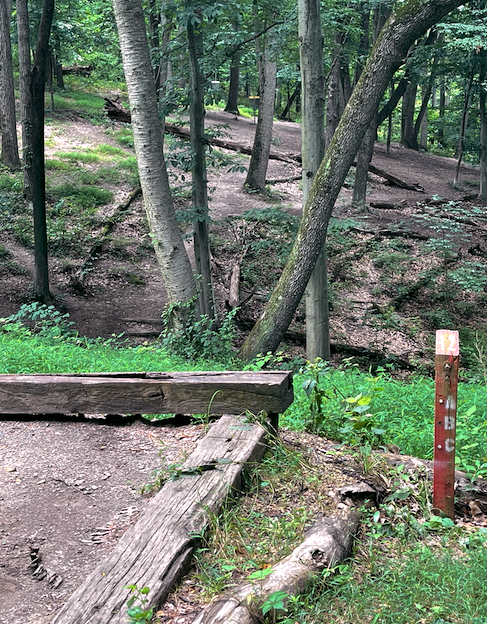 Hole 12 was fun. Shooting at the yellow basket, all I needed to do was clear that log laying in front of the basket. I didn't clear it and my disc rolled down the hill about 20 feet. On my second shot, I did a straddle upshot. Because of how hard the green slopes, I really wanted to put some extra spin on the disc so that when it lands by the basket will will dig in and sit. I threw my Dart and it did that exactly. It landed about 8 feet from the basket and it was pushing to slide away from the basket, but the disc had that little extra zip and it just spun in the dirt for a quarter turn and sat down. It was a small thing, but it made making par trivial versus not trivial.
That's why I like playing the short tees. It's fun to throw far, if you can, but love working on my short game. Probably because I can't throw 400 feet, I have to do what I can do. I need to play smart and execute my short game.
Woodsboro is maintained well.
There is quite a bit of signage to help keep players navigate the course. I think a bit more would make first time visitors happy.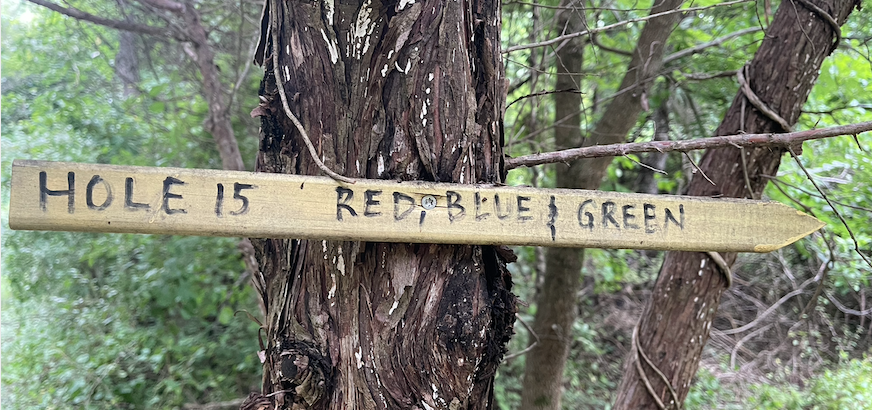 Some of the tee pads were sketchy. They were sometimes short or uneven with rocks sticking up. I personally love added challenges, so it didn't bother me.
It was the trees that got me on Woodsboro today. I hit a tree on hole 4, but was able to scramble for par.
The elavation changes can be really challenging. On hole 13, I missed a pretty easy putt from like 10 feet, my putter rolled down hill by like 30 feet. I had no choice but to play for double bogey.
Woodsboro is a fun and challenging course. I'll play the long tees next time. There's actually 3 sets of tees - red, blue and green. Each hole has two baskets - white or yellow.
I'm pretty sure I will put up more than a +8 on 18 if I'm shooting the long tees and baskets.